- Elf Sweater
- 4 Assorted Colours And Designs!
- Cute
- Approx W 12cm x H 8cm

Cut Price Wholesaler prides it's self on the speed and quality of our delivery. We do everything possible to ensure all orders are delivered within 5 working days.
Recently Viewed Products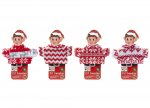 KNITTED SWEATERS FOR ELF With BODY SHAPE INSERT CARD
HOT ONLINE SELLER!!!
PRODUCT CODE: 529036
£0.75
Ex VAT
£0.90
Inc VAT